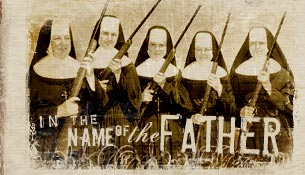 The tsunami survivors should be glad the nuns didn't make them bend over, show their panties, and then beat their butts w/ those long pointer sticks, too. Christian charity.....
Feel the Love
"Jubilant at seeing the relief trucks loaded with food, clothes and the much-needed medicines the villagers, many of who have not had a square meal in days, were shocked when the nuns asked them to convert before distributing biscuits and water.
Heated arguments broke out as the locals forcibly tried to stop the relief trucks from leaving."