Which three will turn the tide?? Will our present government allow them to be seen?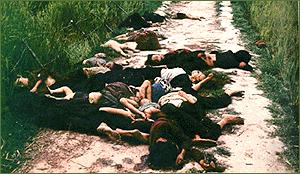 THE MY LAI MASSACRE.........
"I'
ll tell you how powerful pictures are in a world of words. Three photographs changed American opinion about the Vietnam war: Eddie Adams's photograph of Lt. Col. Nguyen Ngoc Loan blowing the brains out of a handcuffed prisoner on a Saigon street, Nick Ut's photograph of Kim Phuc Phan Thi running naked down a Vietnamese road after her skin had been burnt off by napalm, and Ronald Haeberle's photographs of the slaughter at My Lai. People in the U.S. saw those images and they said, "What the fuck are we doing there? Who are we when we can be doing things like that?" Those images trumped the politicians' words."

ABOVE words from
GUERILLA NEWS
pics from
pbs
.---- at what point in time, and what pictures, will be "enough" for America?

Medbh remembers the pictures from Vietnam. As a child , those images were processed and stayed put in some area of her cerebral cortex. They haven't left.
What images will trump our present day's politicians' words? Why do we have to view such tragedies in order to stop an unjust, unwarranted war?
THERE WERE NO WMD'S THIS IS ALL about THE OIL AND THE $$ THAT THE OIL BRINGS.

www.crisispictures.org

Haven't we all seen enough pictures?
Pl.
sign this petition.
Make our government develop and hold to an exit strategy