The Bar was lowered into hell recently......Help Bring it Back Up!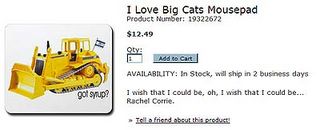 ----Do you remember the name
Rachel Corrie
? She was a 23-year-old American peace activist who was crushed and killed by an Israeli army-driven Caterpillar bulldozer in Gaza in 2003. The story was tragic, and it brought to light the fact that in the last four years, a tenth of the population of Rafah have lost their homes as a result of Cat bulldozers being used by the Israeli military. Also, water wells, schools and hundreds of thousands of trees, have been razed by the Israeli army.
The equipment has also been used to destroy ancient olive groves and roads in the West Bank and to construct the security wall cut into Palestinian territories which has been condemned by the International Court of Justice.
The outcry against the Israeli army's crushing of Rachel Corrie under one of their over 100 Caterpillar bulldozers has initiated actions against and investigations into, her horrible and wrongful death. ---
Read More

Yesterday was designated as an International Day of Action Against Caterpillar--the makers of the bulldozers, and Amnesty International has called for an investigation into Rachel Corrie's death.
Needless to say, there are people in this world who viewed the death of a Peace Activist as something to both make fun of and to profit from.
A right wing blog has recently published this ad for a mousepad with a pic of a toy bulldozer on it, and the words "Got Syrup" next to the toy. The syrup is a reference to the manner in which the young woman was killed.....
Cafe Press
has it for sale, and the profits, naturally will go to that blog. It is doubtful if the Bruder toy company is aware that their toy is being used in this manner---as a symbol of a hateful killing. Why don't you help them to find out???????
Here's where the bulldozer photo came from, and the manufacturer, and the email address to get in touch with them:
Bruder Toys America
email: info@brudertoys.com
877-450-5152
The product (and photo, which was stolen): #02422 Catepillar Bulldozer
Complain about Cafe Press product category
I haven't listed the name of the RWblog, as I will not give them any publicity, even horrendously negative publicity, but, it is easy to find out, if yo want to search it.
and, thanks to
Jesus General
for this info!