The massacre in Uzbekistan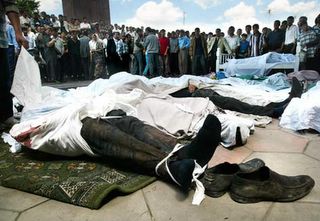 from
www.crisipictures.org
ANDIJAN, UZBEKISTAN: Local residents look at the bodies of the victims from the clashes between the government forces and local protesters on display at the central square in the Uzbek town of Andijan, 14 May 2005. Bodies littered the streets of the eastern Uzbek city of Andijan on Saturday as security forces tightened their clampdown and the death toll continued to rise in what residents called massacres. On the main square, epicentre of the two-day bloodshed. Near a central cinema, the bodies of 20 to 30 men, both young and old, lay gathered together. (DENIS SINYAKOV/AFP/Getty Image)
3:09 p.m. May 13, 2005
ANDIJAN, Uzbekistan – One after another, men and women took the makeshift podium and shared their anger about unemployment and living in poverty. Many of the thousands of demonstrators crowding the city square cried – it was their first public forum in many years in this tightly controlled former Soviet republic.
Suddenly, an armored personnel carrier sped by. Immediately afterward came a truck of soldiers wearing bulletproof vests and helmets, Kalashnikov rifles across their chests. When a second truck with troops drove through, protesters hurled stones – and the troops opened fire into the crowd..
Uzbekistan is a key Washington ally in the war on terrorism and hosts a U.S. air base to support military operations in neighboring Afghanistan following the Sept. 11, 2001 attacks. But it also is frequently denounced by human rights groups and Western governments for torture and repression of opposition. ..
the rest of the story
Karimov is testing the international community to see what he can get away with now that he's viewed as a critical partner in the war. He probably believes that he's traded a military base and a bridge for a free ride on democracy and human rights issues.
Human Rights Watch official Elizabeth AndersenComments on Uzbekistan referendumJanuary 2002
from the
Whiskey Bar
--much more on Uzbekistan, it's leader, our leader, and the massacre, there