Tuesday, May 17, 2005
What is the Downing St. memo?
Cost of the War in Iraq
(JavaScript Error)
Quote of the Day "When we get back to the states... ," NBC news anchor Brian Williams, forgetting he was in the United States

Heard the
Word of Blog?
"...all over this broad land, will yet swell the chorus of the Union, when again touched, as surely they will be, by the better angels of our nature." ---Abraham Lincoln, First Innaugural Address......USA 2005--BE A BETTER ANGEL

Bush Vacations While Mothers Mourn
Click here to contact me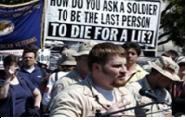 THE PNAC'S 1/28/05 LETTER TO CONGRESS CALLING FOR ENOUGH FORCES TO SUPPORT A GENERATIONAL WAR
FOR THE WAR? CLICK BELOW. AGAINST THE WAR? CLICK BELOW
"All wars are wars among thieves who are too cowardly to fight and who therefore induce the young manhood to do the fighting for them." --Emma Goldman, 1917
"When we get injured, all it says is `one soldier wounded,' " Specialist Acosta said, echoing others at Walter Reed. "Not that a soldier has lost an arm or a leg, or how hard that is."
"The story of what we've done in the postwar period is remarkable," Nethercutt, R-Wash. "It is a better and more important story than losing a couple of soldiers every day."
THE CHILDREN OF IRAQ-- NEED YOU
The moment we begin to fear the opinions of others and hesitate to tell the truth that is in us, and from motives of policy are silent when we should speak, the divine floods of light and life no longer flow into our souls. Elizabeth Cady Stanton
TAKE ACTION
"What does it matter to the dead, the orphans, and the homeless whether the mad destruction is wrought under the name of totalitarianism or the holy name of liberty or democracy?" --Mohandas K. Gandhi
I believe all Americans who believe in freedom, tolerance and human rights have a responsibility to oppose bigotry and prejudice based on sexual orientation. Coretta Scott King