Winning the Hearts and Mind--NOT---# 3,999,444,523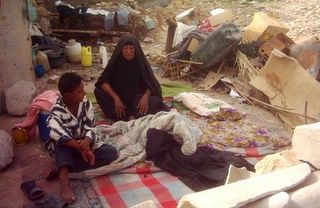 Growing frustration among returnees..."We left Iraq because of the injustice of Saddam [Hussein] and we came back to find ourselves homeless. My sons are jobless and we don't have money to buy a house, so we decided to live in the old naval academy," 60-year-old Um Hassan told IRIN.
The naval academy compound, situated on the outskirts of the southern city of Basra, shelters more than 250 families, most of whom have returned from neighbouring Iran since May 2003. The compound is considered to be relatively comfortable when compared with living conditions in other abandoned government buildings, many of which are being used to house scores of returnees.
Thirty-five-year-old Basri Hannon, who originally fled to Iran in 1992, says he expected to find at least a job to support his family when he returned to Iraq. Now he's not sure he did the right thing when he came home.
"I wish to return to Iran because at least there I had a job and means to support my family," Hannon said.
The rest of the article, HERE